TeamGolfStarRx hit the hallways of the adult golf playground circa PGA Show 2015 />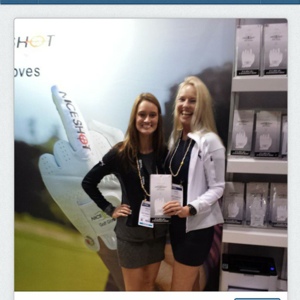 Wide berths boasting booths, bursting with all things golf. Travis Mathew landlocked a showroom with Prime Real Estate and acroutrements to make certain their guests will remember a truly unforgettable experience. We learned we were in good company wearing matching outfits as many others followed suit. Being long on wearing dresses handily landed us at ella belle where they transform ladies into pretty in pink dress girls around the putting green. Conversely, for the occasional Prom Queen Wannabe, (who has unleashed her latent fury on an unsuspecting benefit outing . . . ) The Nice Shot Co. answers the call with an age old universal gesture which is not gentlemanly, let alone ladylike, in any language. However, it drives the point home in one stroke of the finger and loosens up those tight corset strings in a pinch. If, however,you are a member of the trouser wearing type you will be a stand out in a good way if you cinch your waist with the tre' coolio Druh Belts. The glitzy buckle designs moved them into first place in this clotheshorse's closet right next to my appreciably growing skirt collection. Antigua easily wins the most adorable/durable skirt award. Which is why I have adopted dozens of their units as my self proclaimed uniform. This truism nearly caused a Cat Fight when a certain Femme Fatal sniped "what do you do when you take your clothes off since you only wear your logo?" Problem solved! I had the Guys at Golf Design Company make me a logo necklace, that doubles as a ball marker. This serial Entrepreneur ameliorated the barn barb into a Country Club show piece.
The feast was too large to take in without proper infusions and this Vitamin Chick did not have her stash at the ready. Good thing because we practically fell into the Magic Mind liquid focus enhancer booth, strategically placed adjacent to the Mess Hall. This small bottle produced BIG results and just like that . . . ShaZam . . . We were back in the game.
We trained our attention to the new product area and fell in love with the giant furry pajamas for golf bags called MiniZoo. The german Shepard pulled at my heart strings as I had the privilege of being guarded and loved by the same as a child. A sign reading: "Adopt Me" hung around this Shepard's neck. Done! "Best Of Show" is coming home with me. And, "Shep," I will bring you on TV when we tout our benefit Golf-Rider Challenge Outing at The Grand Traverse Resort Village in July. My furry new friend had me searching my mind for other past loves like the Easy Bake Oven. Maybe another focus energy drink was in order. As promised, we saved Straight Down for last so we could Spin-The-Wheel to learn our fortune. We had one hiccup on the way in the form of two Hula Girls provided by Maui Jim who were inducing miles of smiles in tandem while handing out Shell Leis. We trotted our ponies to Straight Down to greet old friends and slip on some jackets that fit like a second skin. So many booths, so little time. My assistant was all but gaga over the show. I kept hearing little hints like, "next year, & "next time. Ok, I get it, she's hooked too. 2016 .. . .here we come!